Enterprise Excellence:
Fully equipped
for constancy
and change
Standing Strong in Rough Seas
Oceans do rock and roll, and so do business environments. To excel, business leaders have to swiftly respond to market opportunities and adjust direction from time to time, without losing direction and steadiness. Some companies are better at this than others, they always seem to be one step ahead, they succeed at innovating without ever losing balance, regardless of the circumstances. Do lucky shots take credit for this, or is there a sophisticated system behind it? Think about your own enterprise. Is your success the result of a carefully implemented vision? Or does your survival depend on breaking-fixing strategies and one-trick pony solutions?
Imagine your enterprise stands out from the crowd, because:
Customers adore your brand as you provide them with the best products, services and user experiences ever?
Employees just love your company values and the exciting career paths you offer?
Shareholders believe in your business because your management and forecasting strategies pay off?
You contribute to a more positive and healthy ecological environment?
… All because you took the time to invest in a well-thought-out Vision, Strategy and Mission?
"Even if your company is the size of a whale, it should always move like a pod of dolphins."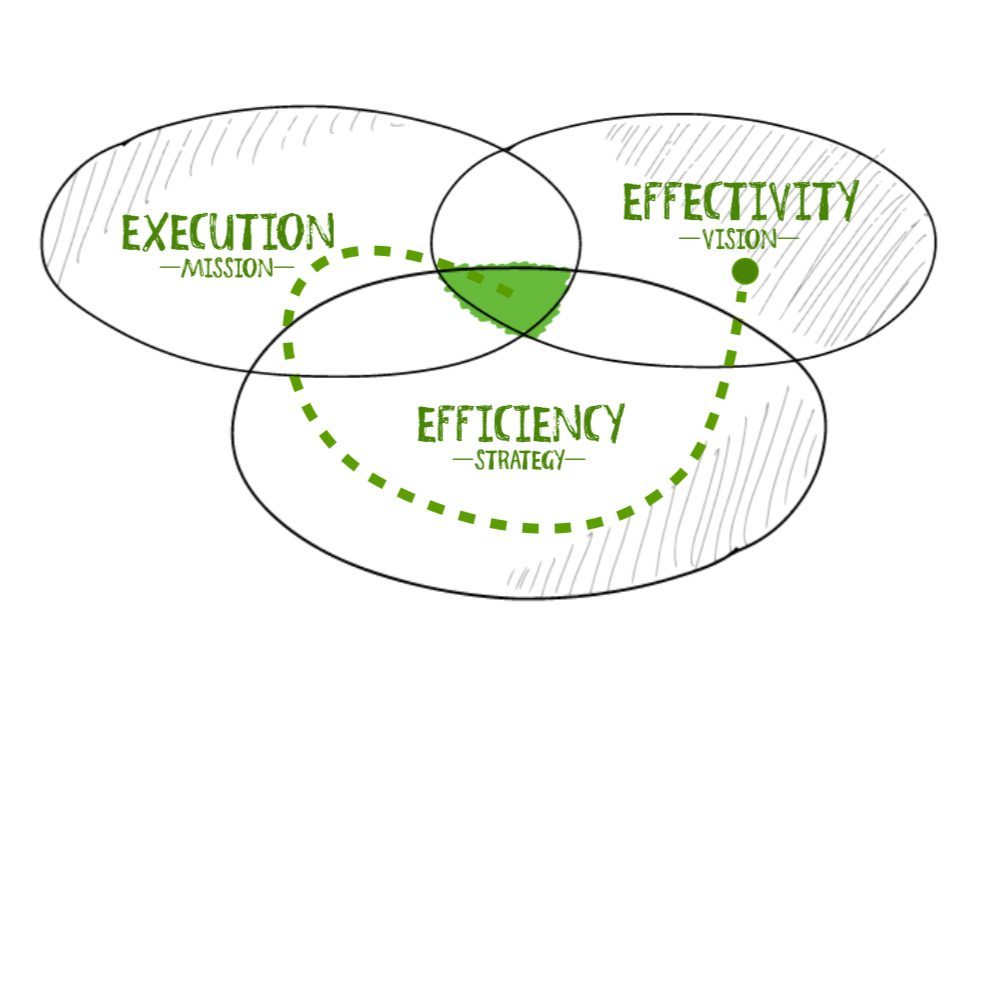 Enterprise Excellence: The Sweet Spot of Business
At ViCre, we are convinced that excelling in business is the result of the perfect synergy between effectiveness, efficiency and execution. These three fundamental dimensions of business need daily revision and upkeep:
To be effective, you need a purpose, a Vision. 
However, business leaders may speak eloquently and elaborately about their dream and have admirable aspirations for their business, words only won't set things in motion.
To be efficient, you also need a game plan, a Strategy.
But concentrating on how to be efficient only, your tactics won't be grounded in purpose – maybe you will become great at doing something very wrong or invaluable for your company.
Brain work however is not enough. You need action as well. If you want to execute, having a Mission is indispensable.
Overly focussing on results and accountability, millions of dollars and euros might be drained on possibly the wrong actions, because they are not aligned with the company vision or strategy.
Conclusion? All three dimensions deserve equal attention. How to find the right balance between the three and do the right things right? At ViCre, we provide you with the tools to find the sweet spot between Vision, Strategy and Mission.
The 5 Tracks: A Unique plan of approach
To keep up with the pace of the outside world, enterprise leaders should continuously improve and reinvent their organization, on top of their business as usual.
ViCre's 5 Tracks-system offers an all-encompassing framework to do this in a swift, painless, smooth, organic way. The tracks are organized into five themes:
Vision Creation: Defining a vision, fine-tuning targets and setting priorities.
Alignment Creation: In this track, business leaders work on a better understanding of their workforce and connecting with their team(s).
Knowledge Creation: Track three is all about closing the gap between splendid new ideas, tangible new products and creating optimal business processes.
Individual Contribution Management, the purpose of this track is to increase your co-workers' accountability, recognize potential talent and build leaders.
And ultimately there's Progress Management, to make sure all your hard work doesn't end up in limbo.
Working with these 5 business perspectives, business leaders can build even-handed plans to develop and implement innovation projects, so that over time, their businesses become agile but persistent organizations that can weather any storm.
How to balance innovation with your daily operations? Here's a clue
To keep the speed of innovation and your daily operations in proportion, working with our 5 Track methodology, you will be able to:
Thoughtfully choose projects that have the greatest impact on reaching your vision, in return for feasible efforts.
Launch your strategic initiatives in semi-parallel, at a steady rhythm. By alternating projects with different impact scopes and deadlines and allocating small teams to well-defined projects in time, you avoid putting all your eggs in one basket and distribute the risk of financial and operational setbacks.
Iterate, until you have reached your goal. Finding a good rhythm to continuously jump back and forward between The 5 Tracks is essential for successful project execution. It's a dynamic process, requiring continuous fine-tuning and real-time adjustments.
Thank you!
We thank you very much for connecting to us,  that is very nice.
Should you have a specific question, do not be afraid to send an email to one of our colleagues in the contact page. We will gladly answer your questions.
Please checkout the rest of our site and not only discover our products and programs, but also our customers and team members.